Bringing Mechanobiology Researchers Together from Around the Globe
Organized by the Center for Engineering MechanoBiology with support from the National Science Foundation, the Annual Mechanobiology symposium brings mechanobiology researchers from around the world together to discuss emerging issues in forces that control living systems in both plant and animal cells. Read more below to learn about our upcoming and past symposiums.

5th Annual Mechanobiology Symposium
April 4 and 5, 2023
Focused on MechanoImmunology and Epigenetics, the 5th Annual Symposium on Mechanobiology was held at University of Pennsylvania, Philadelphia, PA and streamed online.
Invited Speakers:
Adelin Barbacci,

French National Centre for Scientific Research, National Institute for Agriculture, Food, and Environment

Marco Fritzsche

, Rosalind Franklin Institute, Kennedy Institute for Rheumatology, University of Oxford

Claire Hivroz,

Institut Curie
Andrew Holle, Mechanobiology Institute, National University of Singapore

Lance Kam

, Columbia University

Matthew Lang, Vanderbilt University

Song Li,

University of California, Los Angeles

Yekaterina Miroshnikova,

National Institutes of Health

Maeli Melotto, University of California, Davis
Guilherme Nader,

Children's Hospital of Philadelphia

Verena Ruprecht

, Centre for Genomic Regulation
Kenneth Zaret, University of Pennsylvania
Postdoc Preview Day
April 3, 2023
On April 3, 2023, the CEMB hosted the first annual Postdoc Preview Day, for trainees interested in pursuing a postdoc with CEMB faculty. Participants received a travel grant to cover travel and lodging for the Symposium and the pre-conference.
To apply for 2024, please submit your CV and the names of up to three CEMB faculty you'd be interested in meeting with to wabree@seas.upenn.edu.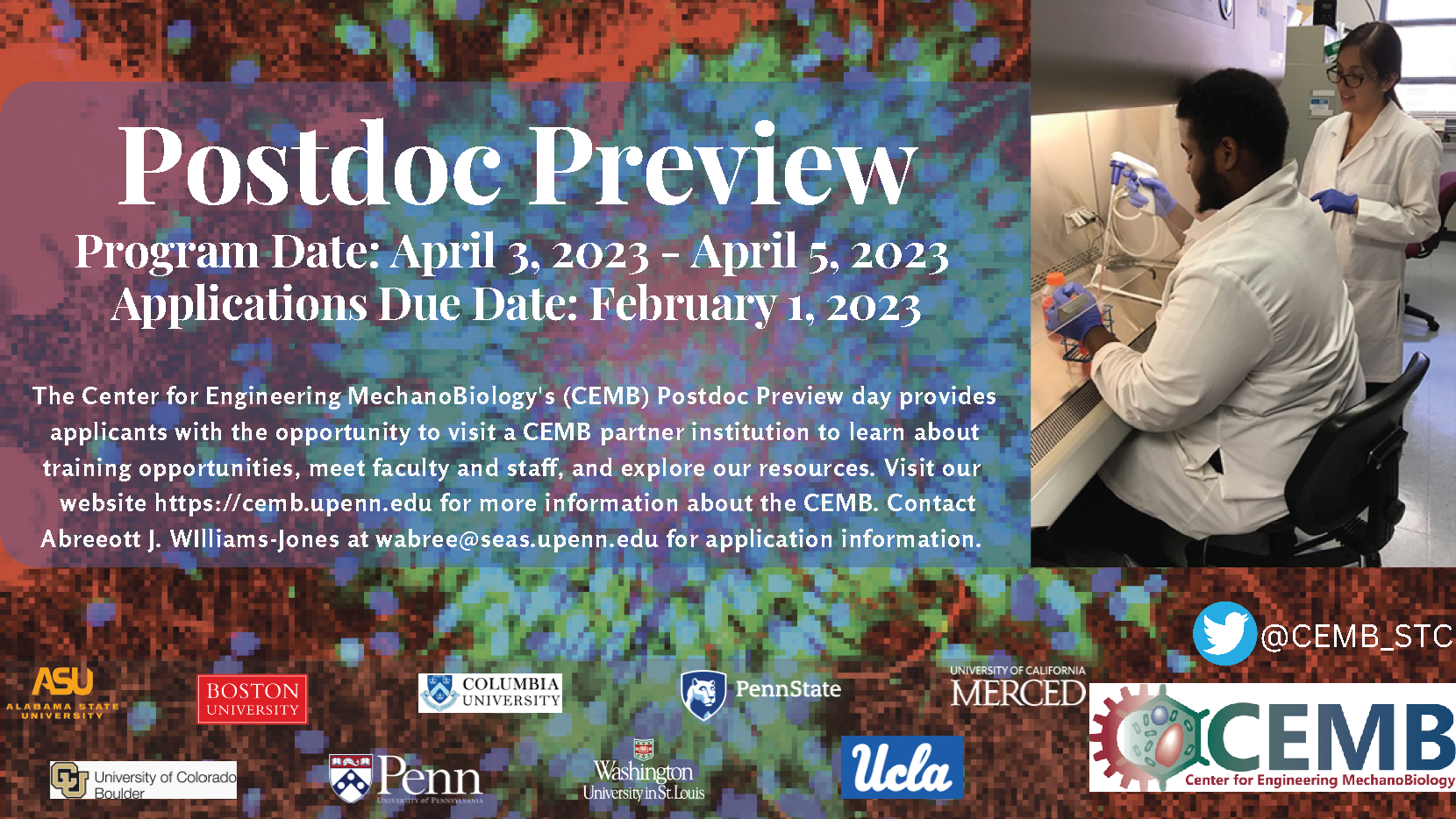 4th Annual Mechanobiology Symposium
March 9 and 10, 2022
Focused on Mechanobiology and Metabolism, the 4th Annual Symposium on Mechanobiology was held as a virtual meeting via Zoom.
Invited Speakers:
Thomas Bertero (Université Côte d'Azur)
Kris A. DeMali (University of Iowa)
Sirio Dupont (University of Padua)
Peter Friedl (MD Anderson Cancer Center)
Alan Howe (University of Vermont)
Benoit Landrein (Université de Lyon)
Naomi Nakayama (Imperial College London)
Cindy Reinhart-King (Vanderbilt University)
Arun Sampathkumar (Max Planck Institute)
Valerie Weaver (University of California, San Francisco)

3rd Annual Mechanobiology Symposium
Focused on engineering mechano-intelligence, the 3rd Annual Symposium on Mechanobiology was held online on January 28, 2021. Invited speakers included:
Alessandra Cambi, Associate Professor, Radboud University Medical Center
"Mech(n)anobiology of antigen-presenting cells"
Anja Geitmann, Dean, McGill University
"Force, form and function – Morphogenesis and mechanics of the plant leaf epidermis"
Olivier Hamant, Research Director, École Normale Supérieure de Lyon
"Intracellular mechanotransduction in plant cells"
Boris Hinz, Professor, University of Toronto
"Fibroblasts form a forceful and memorable connection with the matrix"
Megan King, Associate Professor, Yale University
"A biophysical view of the genome from coding and non-coding perspectives"
Laurent Pieuchot, CNRS Researcher, Université de Haute Alsace
"Curvotaxis in migrating cells and growing epithelia"
Ning Wang, Professor, University of Illinois at Urbana-Champaign
"The central role of cytoskeletal prestress in nuclear mechanotransduction and mechanomedicine"
Sara Wickström, Associate Professor, Helsinki Institute of Life Science
"Nuclear mechanotransduction: Regulation of cell fate and integrity"

2nd Annual Symposium on Mechanobiology (2019)
The 2019 symposium was organized with support from the National Science Foundation.  This year, the symposium ran as a satellite meeting of the Society of Engineering Science, and took place at Washington University in St. Louis on October 13-15.   
This international symposium covered emerging issues in forces that control living systems in both plant and animal cells. Invited speakers included:
Tobias Baskin

, UMass Amherst

Philip Bayly

, WashU

Siobhan Braybrook

, UCLA

José Dinneny

, Stanford

Adrienne Roeder, Cornell

1st Annual Symposium on Mechanobiology (2018)
The first international symposium covered emerging issues in forces that control living systems in both plant and animal cells. Invited speakers included:
Ovijit Chaudhuri, Stanford
Margaret Gardel, University of Chicago
Roger Kamm, MIT
Pakorn 'Tony' Kanchanawong, MBI/NUS
John Lowengrub, UC Irvine
Iris Meier, OSU
Alex Mogilner, NYU
Gabriele Monshausen, Penn State
GV Shivashankar, MBI/NUS
Doris Wagner, UPenn
Yu-li Wang, CMU
Valerie Weaver, UCSF