About the Future Leaders in Mechanobiology Seminar Series
Launched in May 2021, the Future Leaders in Mechanobiology is a monthly seminar series featuring up-and-coming leaders in mechanobiology–PhD students and postdocs from a wide range of fields, backgrounds, and institutions. By providing an international stage to share one's work and opportunities to interact with researchers at all career stages, we aim to create an inclusive and valuable series for early-stage researchers and the mechanobiology community as a whole.
Future Leaders in Mechanobiology will meet via Zoom on the third Wednesday of the month, at 11am ET (8am PT, 10am CT), and all are welcome to attend. Recordings of past talks and the future schedule can be found below.
We are accepting (self)-nominations for speakers HERE!
October 18, 2023: Loic Fort, Postdoctoral Researcher, Vanderbilt University
Title: Apoptosis, Nucleotides and Cell Tension: Investigating mechanisms regulating stem cell conversion to the cardiac lineage
November 15, 2023: Ryan Eng, Postdoctoral Researcher, Max Planck Institute for Plant Breeding Research
Title: TBA
December 13, 2023: Katie Young, Postdoctoral Scholar, Vanderbilt University
Title: Expanding the Genomechanics Toolbox: New Techniques to Investigate Metastasis by Linking Mechanical and Genetic Data at Single Cell Level across the Genome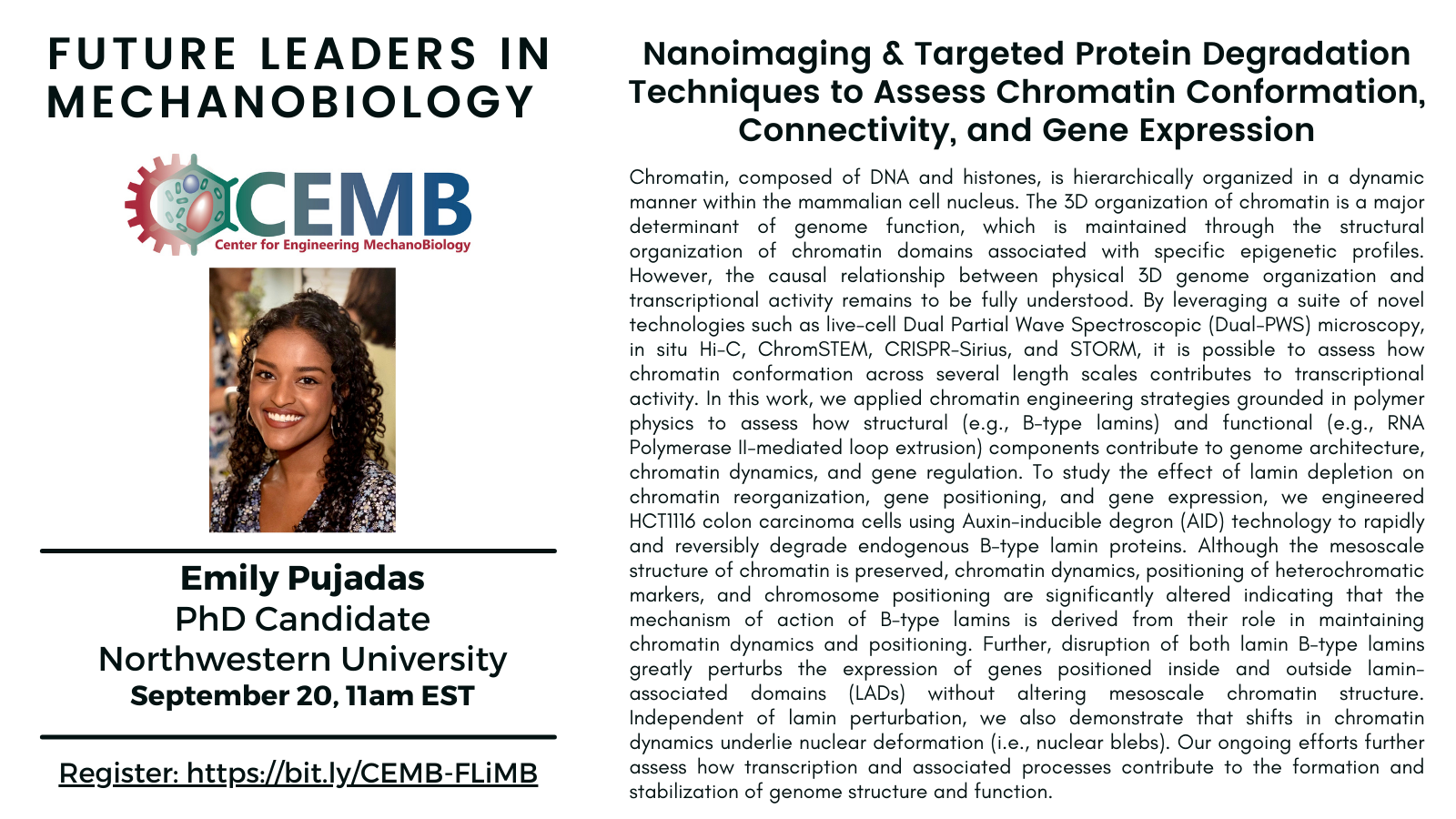 September 20, 2023: Emily Pujadas, PhD candidate, Northwestern University
Title: Nanoimaging & Targeted Protein Degradation Techniques to Assess Chromatin Conformation, Connectivity, and Gene Expression
June 21, 2023: Qing Tang, PhD, Postdoctoral Fellow, University of Pennsylvania
Title: Insight into cytoskeleton sorting from microtubule detyrosination
April 19, 2023: Piere Rodriguez Aliaga, PhD, Postdoctoral Fellow, Stanford University
Title: Harnessing the force (spectroscopy) to unveil the dark side of the Huntingtin protein conformational landscape
Recording embargoed until later date.
March 22, 2023: Avilash Singh Yadav, PhD, Postdoctoral Fellow, Cornell University
Title: Stay FLAT or BUCKLE? The causes and consequences of mechanical buckling in Arabidopsis sepals
February 22, 2023: Windie Hoefs, PhD student, The Francis Crick Insitute, University College London
Title: YAP nuclear translocation in epithelia is regulated by focal adhesions
January 18, 2023: Nadia Ayad, PhD student, University of California, San Francisco
Title: Mechanosignaling initiates Wnt/beta-catenin signaling and establishes the mesoderm boundary through programmed cell death in an in vitro gastrulation model
November 16, 2022: Liana Boraas, PhD, Postdoctoral Associate, Yale University
Title: Untranslated mRNA sequences regulate cell movement via a non-coding function
October 19, 2022: Michael Friedman, PhD, Research Assistant Professor, Virginia Commonwealth University
"Genetic Variability Influences the Musculoskeletal Response to Disuse"
September 21, 2022: Ryan Daniels, PhD candidate, HHMI Gilliam Fellow, University of Pennsylvania
"Mechanoactive Rho signaling through YAP/TAZ suppresses chondrogenic gene expression"
June 15, 2022: Valeria Venturini, PhD candidate, Centre for Genomic Regulation (CRG), Barcelona Institute of Science and Technology
"Sensing the force from within: the nucleus as regulator of migration plasticity"
April 20, 2022: Ivan Radin, PhD,  Postdoctoral Researcher, Washington University in St. Louis
"Vacuoles, changing shape under pressure"
March 16, 2022: Linda Irons, PhD,  Postdoctoral Researcher, Yale University
"Multiscale computational modeling of vascular adaptation and homeostasis"
February 16, 2022: Richard Vincent,  PhD, New Jersey Institute of Technology
"Glycosaminoglycan mimetic structural variation impacts stem cell chondrogenesis"
January 19, 2022: Kateryna Fal, PhD,  Postdoctoral Researcher, Université de Lyon
"Plant chromatin 'senses' mechanical stress"
December 15, 2021: Daniel Abebayehu, PhD, NRSA Postdoctoral Fellow, University of Virginia
"Immuno-stromal axes in pulmonary and biomaterial-mediated fibrosis"
November 17, 2021: Lucile Michels, PhD candidate, Wageningen University
"A microviscosimetry toolbox for plant cells and tissues based on molecular rotors"
October 13, 2021: Kolade Adebowale, PhD, Harvard + Wyss
"Enhanced matrix stress relaxation promotes cell migration"
September 15, 2021: Lisa Van den Broeck, PhD, North Carolina State University
"Exchange of molecular and cellular information: A hybrid model connecting regulatory interactions with stem cell divisions in the root"
June 16, 2021: Seyed Ali Reza Mousavi, PhD, Postdoctoral fellow, Scripps/HHMI.
"Plant mechanotransduction: The role of PIEZO ion channel in sensing external forces in plants"
May 12, 2021: Melina Gyparaki, PhD candidate, University of Pennsylvania
"Super resolution microscopy of tau aggregation in pathology"