About the Future Leaders in Mechanobiology Seminar Series
Launched in May 2021, the Future Leaders in Mechanobiology is a monthly seminar series featuring up-and-coming leaders in mechanobiology–PhD students and postdocs from a wide range of fields, backgrounds, and institutions. By providing an international stage to share one's work and opportunities to interact with researchers at all career stages, we aim to create an inclusive and valuable series for early-stage researchers and the mechanobiology community as a whole.
Future Leaders in Mechanobiology will meet via Zoom on the second Wednesday of the month, at 11am ET (8am PT, 10am CT), and all are welcome to attend. Recordings of past talks and the future schedule can be found below.
2021-2022 Seminar Schedule
October 13, 2021: Kolade Adebowale, PhD, Harvard + Wyss
"Enhanced matrix stress relaxation promotes cell migration"
November 17, 2021: Lucile Michels, PhD candidate, Wageningen University
"A microviscosimetry toolbox for plant cells and tissues based on molecular rotors"
December 15, 2021: Daniel Abebayehu, PhD, NRSA Postdoctoral Fellow, University of Virginia
"Immuno-stromal axes in pulmonary and biomaterial-mediated fibrosis"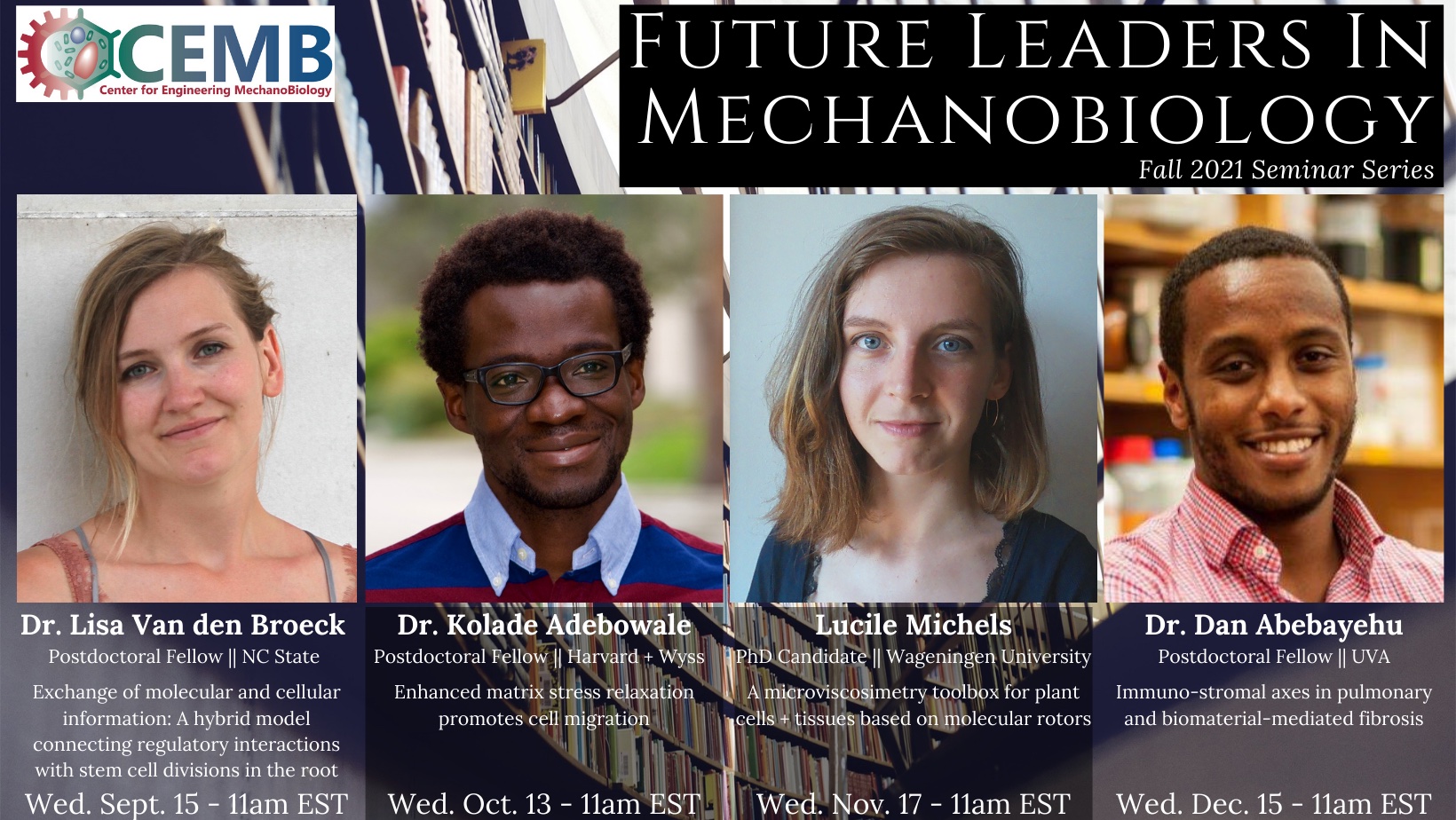 Past Seminars
September 15, 2021: Lisa Van den Broeck, PhD, North Carolina State University
"Exchange of molecular and cellular information: A hybrid model connecting regulatory interactions with stem cell divisions in the root"
June 16, 2021: Seyed Ali Reza Mousavi, PhD, Postdoctoral fellow, Scripps/HHMI.
"Plant mechanotransduction: The role of PIEZO ion channel in sensing external forces in plants"
May 12, 2021: Melina Gyparaki, PhD candidate, University of Pennsylvania
"Super resolution microscopy of tau aggregation in pathology"